Below is a selection of basses, click an image to see more...
Fiesta red P type bass, based on a late '62 example.
The bass features an alder body, veneer type rosewood fingerboard on maple neck, clay dots, and medium frets.
Authentic vintage style hardware throughout, reverse tuners, threaded saddle bridge, etc.
Bare Knuckle pickup wired through CTS pots and a Switchcraft jack socket.
Tight resonant sound...classic P tones...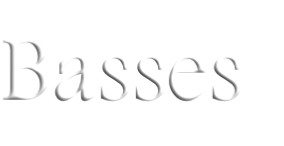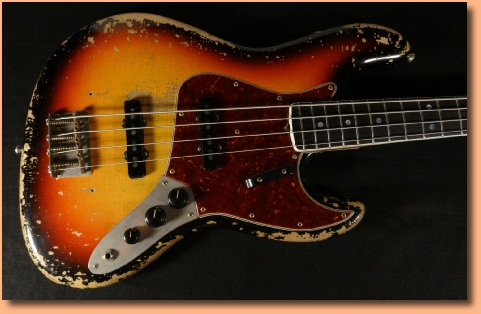 1966 style J type bass, finished in an incredibly authentic heavily distressed three tone nitro-cellulose sunburst.
Dots and binding neck, pretty much unique to '66, the bass also features 'lollipop' tuners, 4 ply celluloid torty pickguard, Bakelite knobs and a gorgeous dark rosewood fingerboard with pearloid dot markers.
Vintage style hardware throughout, a classic looking and sounding bass that would grace anyone's bass collection...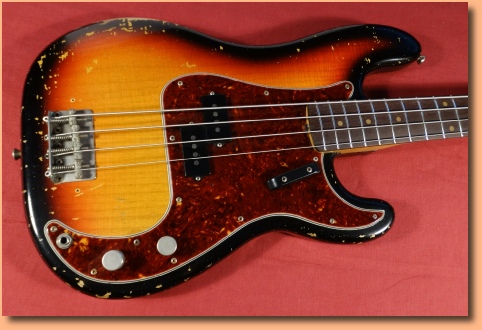 Late '62 style P type bass...classic look of three tone sunburst with torty guard...
Alder body with maple neck and curved join rosewood fingerboard with clay dots.
Nitro-celluloid 4 ply pickguard, featuring the correct 30 degree bevelled edge. Vintage style hardware throughout, reverse tuners, threaded barrel type bridge.
Bare Knuckle '58 P' pickup gives the bass the classic p type growl...
Awesome bass...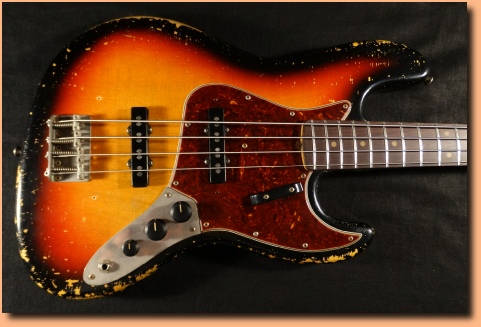 '63 style J Type bass, alder body finished in three tone sunburst, maple neck with curved join rosewood fingerboard.
Vintage style hardware throughout, celluloid 4 ply torty gaurd, Bare Knuckle HF60 pickups...
Plenty of authentic looking wear and tear, plays and look great,, sounds like a good J should...growling and tight.
Classic looks and sound...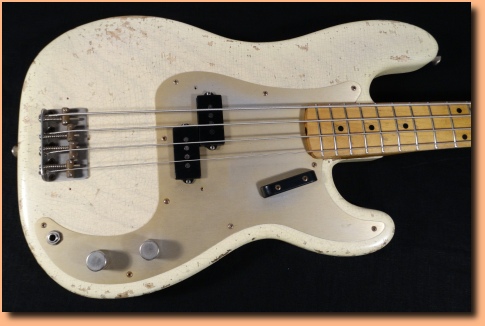 '58 style P type bass, swamp ash body finished in a cool distressed blonde finish. Maple one piece neck with 'A' width nut.
Anodised guard, vintage correct hardware throughout, including '58 style bridge with finer threading on saddles.
Bare Knuckle '58 P pickup, CTS pots and Sprague orange drop capacitor.
Cool looking and sounding bass...amazing sustain, rings like a piano...